Open directory/file path easily using cmd of windows OS
Hey,
There is an easy way to write a path of file or directory in a Windows OS to the "cmd" without writing it manually.
#1 The simple way to do it is:
Drag the folder/file to the Command Prompt/Bash, and it will automatically fill the path 🙂
#2 If you are already in a folder:
You just need to click on the Mouse Right-click:
and then you will see an option called: "Open command window here" Or "Git Bash Here" (If you have bash installed in your OS)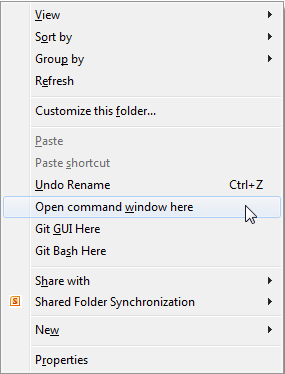 #3 If you are already in a folder, you can copy the path from the top bar or write cmd on it, please see the images bellow:
Let's assume you want to write the path of a project in your htdocs folder in Xampp, for example: "C:\xampp\htdocs\blog".
First, you go to the folder you want to open in cmd.
Then you go to the top bar where you see the path of your current location:

And the last step is to write cmd inside the top bar like this:

So now the path has been written to you automatically.

I hope you learned something new.
Credit to my friends Islam Saadi And Majdi.
I wish you the best,
Thanks